Wasp nest removal in Essex: get rid of wasps fast
We can help you get rid of wasps
We offer a fast and reliable service for wasp nest removal in Essex and East London. Our friendly, expert wasp control team can usually treat a wasp nest within 24 hours of a call. We also provide a one-hour time slot for our arrival. With our state of the art booking system and GPS trackers, we can often treat a wasps nest the same day.
There are no call out charges for wasp nest removal and no additional fees for appointments on evenings or at the weekend. We are BPCA and CEPA certified technicians.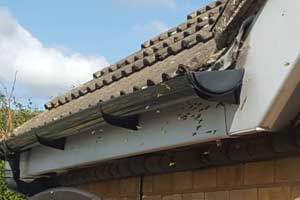 Signs of a wasps nest
Wasps will often make nests in shielded areas of your home. On hotter days and later in the summer you may see a steady stream of wasps coming and going through one small gap
Safety comes first
Using an 8 metre extendable lance, most wasp nests can be treated at ground level and at a safe distance from the attack zone.
Wasp nest destruction
Usually from the outside, specialist wasp insecticide is injected at high pressure into the heart of the nest. By the morning the nest will be totally inactive.
Wasps can be irritating pests as well as being downright aggressive and dangerous. The most common species in the UK are the German wasp and the common wasp. Wasp bodies have a black and yellow band across the abdomen. They are quite large insects at approximately 14mm in length. 
Wasps and hornets look very similar in colour, although the hornet is much larger. Hornets and wasps can be aggressive and will string without provocation. Wasps are a nuisance to both businesses, householders, and those trying to enjoy the summer outdoors. If a wasp nest is anywhere near where humans live, then it must be treated. However, if the nest is in a rural location with little or no hazard to human health, we would always advise leaving them be.
How to treat wasps and their nests?
If you harm a wasp during a wasp nest removal or if it feels that the nest is under threat, it will release an attack pheromone. This chemical signals to other wasps to target the threat and can lead to an attack on the assailant.
The sting is an injection of venom into the victim. Unlike the sting of a bee, the wasp sting can be withdrawn from the victim and used again. Wasps can also be aggressive. A wasp can sting multiple times, which can cause potentially fatal anaphylactic shock to the victim. In extreme cases, a hospital visit may be necessary. This is particularly if you have been stung multiple times.
Approach wasp nests only with extreme caution. Multiple stings can be very dangerous. Wasps have a powerful sting and readily use it to defend the nest or themselves, unlike bees, who are passive.
Regardless of the size of the nest, which can be home to several thousand wasps, Pest ID will be able to get rid of wasps with minimal fuss or disruption.
Wasp nests may be found in roof spaces, wall cavities, and air grates of buildings, hanging from trees or underground. Wasps are extremely common in the UK.
If you need help with Wasp Nest Removal in Essex or London, get in touch for a quote today.