Bed Bug Pest Control Services
Bed Bug Infestation & Exterminator Services for Essex & East London
If you have a bed bug infestation then we know how traumatic it can be for you and your household. You will want to get rid of bed bugs as fast as possible, and here at Pest ID we have a team of friendly, professional exterminators who are here to help. We offer Bed Bug Removal in Essex & East London and cover key areas such as Chelmsford, Southend and Basildon.
Bed bugs are becoming common in the UK and are already a major problem all over the world. The rapid growth of this problem is because they spread easily, are difficult to treat and have fewer effective products to kill off infestations. Only professional treatment will ensure complete removal of bed bugs. We are based in Essex and have extensive experience of dealing with bedbug removal and control.
Call now on 0800 955 0003
How to identify a bed bug problem - early signs of infestation!
If you suspect you have a bed bug infestation then you will want to know what to look for – often the physical symptoms of a bed bug problem can be mistaken for allergies (even GPs may make this mistake!) and by the time it's confirmed, it's too late and the bed bug infestation has already taken hold. Some key things to look out for include:
Bite marks on your body, usually on exposed/bare areas (face, neck, arms) – these will likely take the form of raised, itchy, red marks, often grouped together or in a line.
Ink-like stains on your bedding
Blood speck stains on your bedding – these may either be from bedbug bites or from squashing them whilst sleeping.

Sometimes if you quickly switch your light on in the middle of the night then you will see bed bugs scurrying away – you'd be surprised how quickly they can move!
Where will you find bed bugs?
Whilst the answer to this question may seem obvious, it is possible that the infestation will not be confined to the bedroom. Often when a household has a bed bug infestation they will sleep in another room until they have been exterminated – this can in fact spread the bed bugs throughout the house to other beds and even living room sofas.
If you decide to throw out a mattress that is infested with bed bugs then it's possible they will make their way back into the house – the same goes when you try vacuuming bed bugs or their eggs up… When the bag is removed they will often crawl out and find their way back into the house, so it's important to ensure you bag up the contents and seal it before throwing it away. They have also been known to crawl directly out of the vacuum cleaner.
Read our Blog showing 5 ways to identify bed bugs.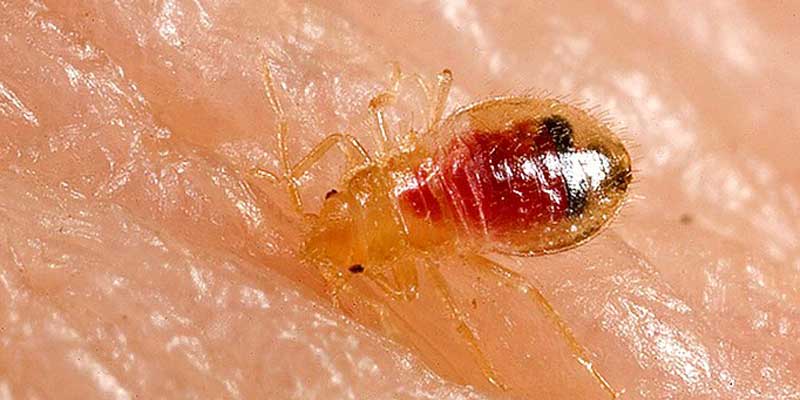 What causes a bed bug infestation?
Contrary to popular belief, bed bug infestations are not known to be caused by poor hygiene – in fact, it is likely that they have been picked up elsewhere and brought into your home via clothing or luggage.
Drawn out by body heat, carbon dioxide in our breath, and movement to feed on fresh blood
Bed bugs are picked up in hotels, trains or coaches with upholstered seating. They have even been picked up on night flights on aeroplanes.
Changes in pest control practices
Insecticide resistance

Once they have fed on a host, they will scurry off and hide until they are ready to feed again – if that hiding place is your clothes, handbag or luggage then you may be taking them with you. If you have someone over to stay the night then it is possible they could bring a bed bug problem with them!
What are the symptoms of a bed bug infestation?
Aside from the embarrassment of having a bed bug problem and the fear of spreading it to friends and family households, there are some additional symptoms and issues caused by an infestation:
Constant itching
Scratching bites causing infection
Large colonies of bedbugs produce a musty smell

A full list of symptoms can be found on the NHS website.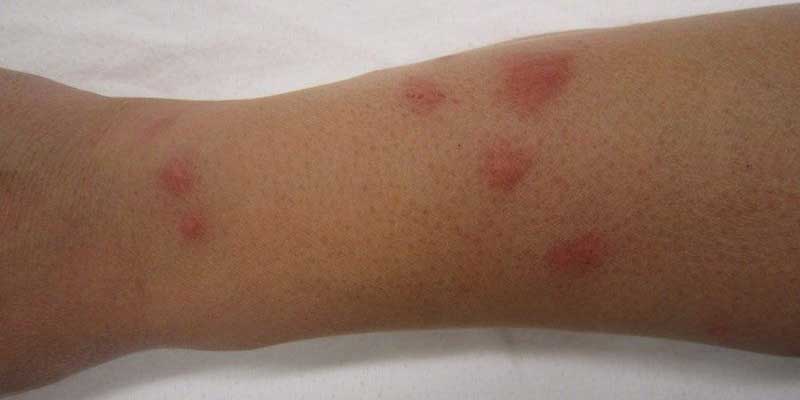 Can I get rid of bed bugs myself?
Whilst there are several bed bug treatments and products on the market, these DIY products may not be enough to kill off the entire colony of bed bugs.
Between feeds they may hide in unexpected places that you may not think to (or be able to) get insecticides to effectively, such as:
Within the bed frame itself
Inside electrical sockets
Inside electrical equipment
Behind wallpaper
Behind skirting boards
Under floorboards

The majority of these "quick knockdown" insecticides like sprays, fogging, fumigations and smoke MUST make contact with the insects straight away, otherwise they will degrade in the light and become useless. It only takes one egg or juvenile bed bug to remain and the whole cycle will start again – this may take months to notice!
It is highly recommended that you contact a professional, certified bed bug exterminator to ensure complete and permanent removal of your bed bug infestation.
Why choose Pest ID for your Bed Bug Exterminator Services?
After an initial consultation and inspection with one of our friendly bed bug specialists (during which we will search for evidence of infestation), we will discuss with you the potential source of the issue – if we can work this out then we can help to ensure that the problem does not reoccur. Once we have treated the affected areas of the property, there will be some residual insecticide which will remain at extremely low toxicity levels for up to 7 weeks after our visit.
We are full BPCA members and trained to RSPH levels, with CEPA Certification (aka EN 16636) which means we are audited to the very highest standards of pest control. All our staff are registered for CPD (Continued Professional Development) and we only use the best products available. We have a flawless 5 star rating on Google Reviews and a 9.96/10 on Checkatrade from over 300 happy customers and we genuinely care about our customers, meaning we provide the best possible levels of customer service.