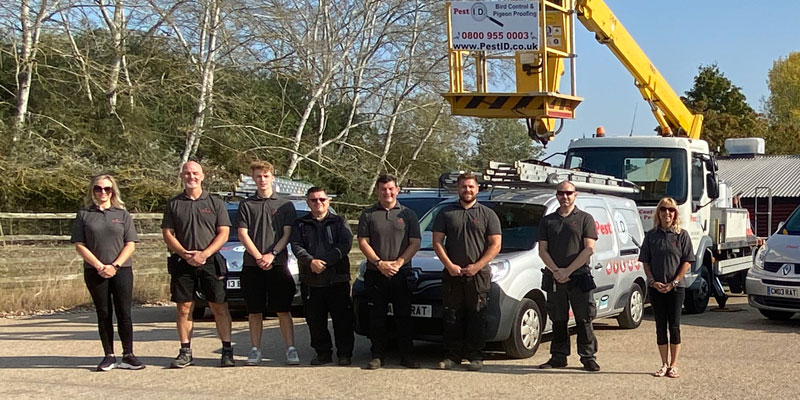 Our goal is for Pest ID Limited to have the best reputation for pest control across Suffolk.
Giving excellent customer service is very important to us, and we want our customers to be delighted with our work and feel that they've had value for money.
Things you should know about about Pest ID
we only employ the friendliest, most helpful technicians
we're fully insured to £10,000,000 for public and product liability
we are full BPCA (British Pest Control Association Members, and are also CEPA Certified (Confederation of European Pest Management)
we're also BS EN16636 Certified
with 4 highly trained technicians on the road, we are small enough to care, but large enough to deal with the largest, most complex pest issues
Our aim since Pest ID was founded is to be a truly local pest control firm, supporting local residents and businesses. By not stretching ourselves too thinly, we are able to provide the highest levels of service along with with the fastest possible response times.
As well as being full members of the BPCA (British Pest Control Association), Pest ID are very proud of our CEPA certification accreditation. This means that we have the capability to compete with the big nationwide pest control firms, yet can still offer the personalised service that larger companies cannot offer. At this moment in time, there are only four other independent firms in Essex that have achieved this accreditation.
Regular changes in legislation, combined with new best codes of industry practice, have resulted in significant changes to the way pest controllers approach their work, with a focus on prevention and management of environments.
This means that we choose to use more subtle yet effective methods that are kinder to the environment, and more humane to the target creatures we aim to get eradicated from our clients properties. Killing and saturation poisoning is avoided wherever possible.
Our years of experience have taught us just how important the customer is, and we work extremely hard to win their trust. We do all we can to keep our clients satisfied, and this often leads to referrals and repeat business.
If you become a new Pest ID client, please share your experiences with others, and help me achieve our goal of being the best pest control business in the area.
Ian
Ian Bright MBPR (Pest Control)
Director