Solar panel pigeon proofing in Essex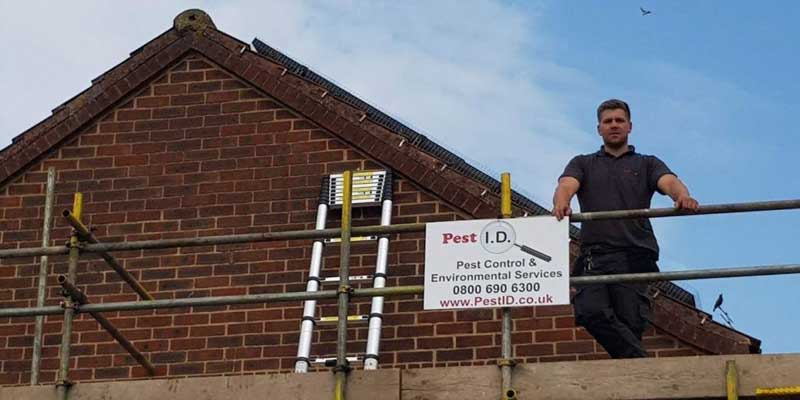 Solar panels are a great investment. However, there are also many downsides to them. It is very common for pigeons to nest under solar panels. This can cause serious problems and damage. If you are based in Essex or East London and you need advice about protecting your solar panels, please get in touch.
Our solutions do not damage the panels and do not invalidate any warranties
After pigeon proofing your solar panels
Here's a short 50 second video showing what the pigeons made of our work.
Follow this link to our Google reviews page, where you can see what our customers say about us and our pigeon proofing solar panels work.
Here's a testimonial from one of our many happy customers:
Had previous encounters with people trying to sort out the pigeons under the solar, and after them being really poor. I was so very pleased with Pest ID, responded quickly to my questions even on a Sunday, arranged a time that was convenient to come and check the solar panels and one the very good price was agreed a time was booked to do the work. They arrived bang on time and carried out the work they said they would, they were tidy very professional and efficient and I can't recommend them any more. Really nice guys and really pleased with what they've done. Thank you Ian very much.
Most solar panel pigeon proofing jobs cost around the same...
It's just how we access the panels that is the key pricing differential. Working at height involves risk assessments that determine which, if any, is the safest way that we can pigeon proof your solar panels.
Using a roof ladder can often be used, but getting up to gutter height may involve using our own Easi Dec scaffold access, scaffold towers and on some occasions, we have to draft in a scaffold firm to erect a scaffold for safe access. We have a close working relationship with SBL Scaffolding who give our clients very generous rates. Failing that, we're quite happy for you to arrange the scaffold direct as long as it is professionally done and safe for our team to work on.