Pigeon Proofing for Solar Panels
in Essex and beyond.
10 Year Guarantee.
Stop pigeons nesting under solar panels.
Pigeon Proofing in Essex, London, the South East and East Anglia.
Are you having trouble with pigeons nesting under your solar panels? We provide a solar panel pigeon proofing service in Essex and the surrounding area, to get rid of pigeons. Solar panels can be a great investment, letting you drastically reduce your electricity bills while also earning you money when you sell your surplus electricity back to the grid.
Unfortunately, the solar panels on your roof also create the perfect environment for pigeons to nest, giving them shelter from both the elements and predators. And pigeons nest all year round. 
Reasons to get rid of pigeons
Over time, this pigeon activity will give rise to serious problems:
pigeon droppings, or guano, will accumulate over the surface of the panels, reducing their effectiveness in generating electricity

the guano will also build up on the roof tiles and guttering, turning into a health hazard

the very act of cleaning up pigeon guano, particularly when dry, can be very hazardous to your health and lungs

pigeon poop is highly acidic and will, over time, corrode the surface of your solar panels and roof tiles

these conditions also create the ideal environment for bird mites to flourish and enter your home

discarded nesting materials will slide down the roof, resulting in blocked gutters

pigeons are also noisy creatures, waking people a couple of hours before daylight
Given time, your roof will become the pigeon hub for your entire street, and the cost of cleaning your solar panels and roofing on a regular basis can make your solar panels less of an investment and more of a liability.
But it doesn't have to be this way. Efficient solar panel pigeon proofing can prevent pigeons from nesting on your roof. 
Pigeon proofing solar panels
Pest ID's solar panel pigeon proofing service will prevent pigeons and any other birds from nesting under your solar panels.
Unlike several of our competitors who use cheap rolls of mesh, we use galvanised steel sheets that are custom cut and bent to fit to the exact shape of your panels. Our preference is to use 12 gauge (2.64mm) sturdy steel meshing, as this will prevent even the most determined pigeons from getting under your panels.
As the mesh is clipped onto the solar panels, no drilling is required and so you won't invalidate your warranty. A small percentage of panels have no lip under the rims, and in those cases we may have to use a silicone adhesive to secure a slightly different type of panel proofing.
The excellent quality of the solar panel proofing materials that we use means that we are able to offer an industry-leading 10 year guarantee on every installation.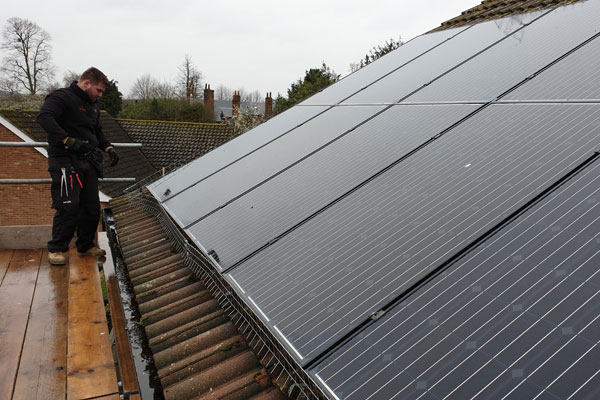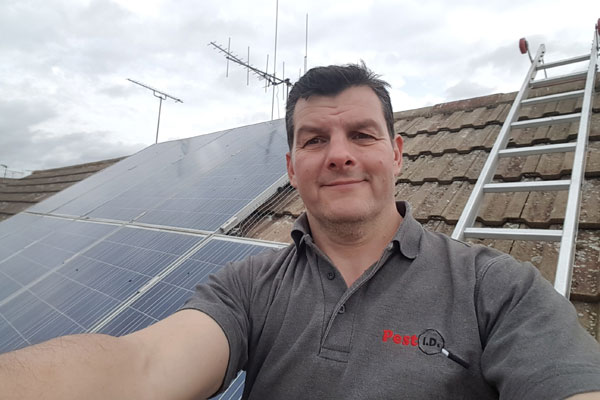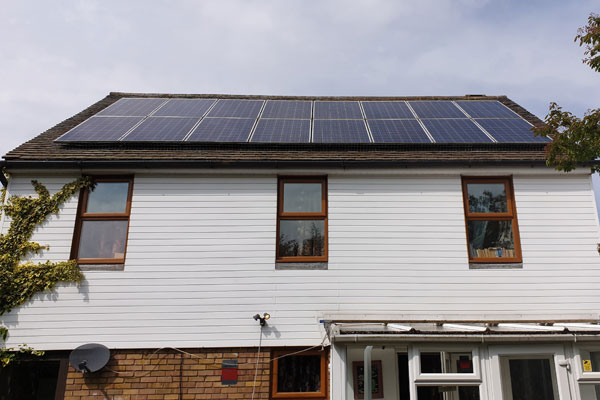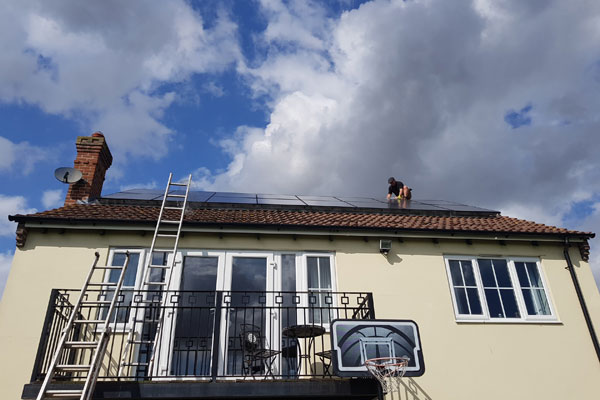 Safe access to your solar panels has to be our first priority, as a fall from roof height could be fatal.
For properties with no obstructions, such as porches and conservatories, we will where possible use our Pest ID Solar Scaffold Tower to access your roof, as this is much safer than using ladders.  
Where there are access complications, we will need to engage the services of a professional scaffolding firm.
Preparing the solar panels
First, we will remove all the birds and as much of their old nesting material as possible from under the panels. Once the site has been cleared, we will carry out a full biocide treatment under the panels to kill off bird mites. We will then clean and remove all debris that has built up in the gutters.
Once the area has been cleared, we can then pigeon proof your solar panels, securing the bespoke sheets of mesh to the panels with specially designed clips. This means that there's no need to drill into the roof or the solar panels, and so this work won't invalidate the warranty.
Once completed, we guarantee the pigeon proofing for 10 years.
Choosing the right company
A word of caution. It's critical that you choose a company which is a member of the British Pest Control Association (look for the BPCA logo). All too often, we are asked to put right jobs carried out by roofing companies that have used poor quality materials, and haven't fitted the mesh correctly.
We help dozens of clients every year who have paid good money to a roofing company that gave them a cheaper quote, only to have to pay out again to have the work done properly. Don't 'buy cheap-buy twice'.
Ask us for a bird control quote
We can usually give you a bird control quote the same day, so please give us a call. Alternatively you can send us a message by email or using the form on our contact page, confirming your address and postcode and attaching a photo. We'll get back to you as soon as we can with our quote.
After pigeon proofing your solar panels
Pigeons are creatures of habit, so it's more than likely that they will hang around after we have finished our work.
They will be keep trying to get back to their nesting spot, and it will take them two or three days (or sometimes even weeks with the most stubborn pigeons) to realise that the mesh is permanent, and that they'll have to find somebody else's solar panels to nest under.   
Here's a short video clip showing what some pigeons made of our work.
Here are just some of the many solar panel pigeon proofing reviews which our happy customers have left on Checkatrade.